Episode 9: Meet the Gait Lab Experts at Gillette Children's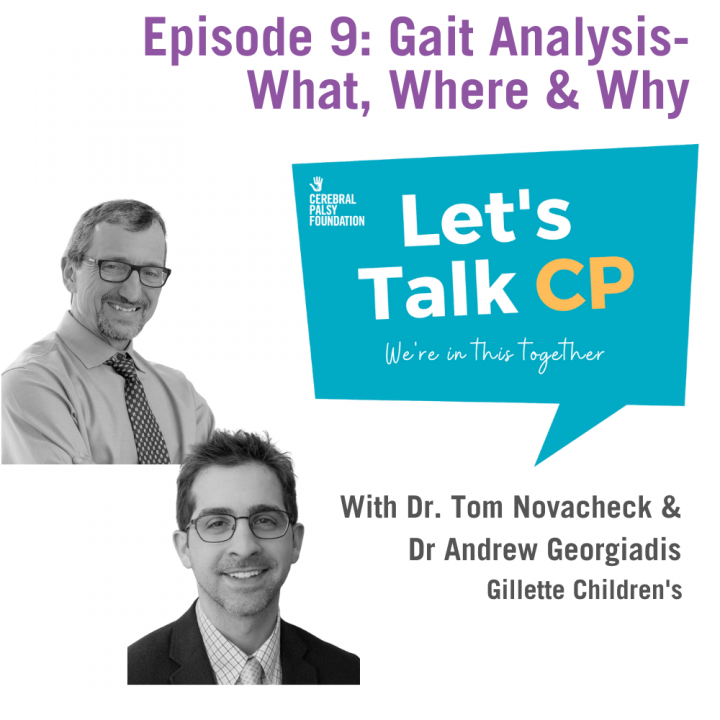 Have you wondered if gait analysis might be helpful for you or your child or how gait patterns develop in someone with cerebral palsy across the lifespan?
In this Episode of "Let's Talk CP" host, Cynthia Frisina, talks with Dr. Tom Novacheck and Dr. Andrew Georgiadis from Gillette Children's about gait, gait analysis, and what makes Gillette Children's such a special place.  
Gillette Children's in Saint Paul Minnesota is one of the world's top cerebral palsy centers, home to leading specialists in treatments for cerebral palsy, including orthopedics, neurology and neurosurgery, as well as operating one of the world's busiest and most respected clinical gait and motion analysis centers.
Using innovative computer technology, gait and motion analysis captures movements, muscle activity and forces that the eye can't see, and helps clinicians understand and recognize how orthopedic, neurological and muscular conditions can hinder motions that are critical to daily living. This information can lead to better treatment decisions and outcomes for patients and their families.
Tom Novacheck, MD, is a pediatric orthopedic surgeon and Associate Medical Director of the James R. Gage Center for Gait and Motion Analysis at Gillette.  He is also the past president of the American Academy for Cerebral  Palsy and Developmental Medicine. www.aacpdm.org. Dr. Novacheck's research and education activities for residents, fellows, and healthcare professionals have focused primarily on outcomes studies of management of gait disorders in individuals with cerebral palsy, development of motion analysis testing methods, and the biomechanics of running.
Dr. Andrew Georgiadis is a pediatric orthopedic surgeon and Clinical Manager of Center for Gait & Motion Analysis at Gillette. Dr. Georgiadis has a particular clinical interest in congenital conditions of the hip and lower extremities and in pediatric orthopaedic trauma, as well as decision-making for patients with cerebral palsy.
Don't forget to subscribe to "Let's Talk CP" on your favorite podcast platforms including Apple podcasts, iHeart Radio, Spotify, Google podcasts, Stitcher and many more.
When you're talking to a medical provider, you have to be very clear as a family or a patient about what your goals are and what's important to you and what's difficult to you. Getting at that and what you want to improve is really important so that the care team can make a treatment plan that addresses what you see in addition to what they see and what they think should be a goal for you.