Cerebral Palsy Health by Jennifer Lyman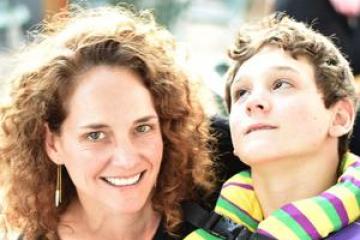 Cerebral Palsy is a complex health condition that impacts each individual differently. As a result, finding information about what might help improve function, increase participation, and achieve health and lifestyle goals can be difficult. This podcast is a place for conversations with experts about issues related to cerebral palsy that affect health, fitness, function and participation. We will cover a range of topics including: treatments and therapies, nutrition, neuroplasticity, genetics, exercise and fitness, adaptive sports, accessibility, and new trends.
Episode 4- Iona Novak, PhD and Madison Paton, PhD: What's the Deal with Stem Cells Anyway?
ABOUT THIS EPISODE
On this episode I talk with two of the world's leading researchers… Dr. Madison Paton and Dr. Iona Novak on stem cell treatment for cerebral palsy. Stem Cells have been a hot topic in Cerebral Palsy for at least 15 years now, with many parents and researchers hoping that at the least, stem cells will lessen the impact of CP and at most hold the key to a cure. Dr. Paton and Dr. Novak will share their insider knowledge into this subject and help us sort through the hype and so we can hold onto our hope.
We discuss the various types of stem cells and how they might benefit those with CP.  We also discuss current research, Jen's experience with her son's stem cell trial, how to learn about other stem cell trials and where to find resources.  We also talk about stem cell tourism and issues to be aware of with these operations. 
Professor Iona Novak is the Head of Research for the Cerebral Palsy Alliance Research Institute, located at the Brain Mind Centre, in the University of Sydney (in Australia). Iona is a Fulbright Scholar, and has won the Western Sydney University Chancellor's Award for Alumni of the Year and The University of Sydney Award for Professional Achievement. She co-founded the Cerebral Palsy Alliance Research Institute for the purpose of: prevention, cure and treatment of cerebral palsy. Driven by an internal belief that healthcare truly has the potential to change lives, Iona has pursued projects and roles that will have the greatest possible impact on children and families in today's and tomorrow's world. She is passionate about evidence-based practice; knowledge translation, neuroplasticity; stem cells and neuroregenerative clinical trials. Iona leads a collaborative research team that is currently conducting the world's largest ever, cerebral palsy early intervention trial, exploring whether harnessing neuroplasticity can reduce the severity of disability.
Dr Madison Paton is a Research Fellow at the Cerebral Palsy Alliance Research Institute. She received her PhD in 2018 investigating stem cell therapies to protect the developing brain. She has been working in the field of cell therapies and cerebral palsy for more than 7 years and has transitioned from working in the lab, to helping develop clinical trials that drive the research pipeline. Madison's early work focussed on stem cells collected from the placenta and how we can best protect from brain injury occurring during pregnancy or around the time of birth. She now is interested in applying these therapies to treat babies and children with a risk of brain injury or cerebral palsy. Dr Paton is passionate about science communication, engaging with consumers, and sharing the best available evidence on stem cells.
Show Resources:
Episode 3- Amy Bailes, PhD, PT, PCS: ABC's of CP
ABOUT THIS EPISODE
On this episode with Dr. Amy Bailes, we discuss the Gross Motor Functional Classification System (the GMFCS), the Gross Motor Functional Measure (the GMFM), and the corresponding motor curves. The GMFCS is an important classification system that is relatively easy to understand and it helps create a shared language and framework for understanding a person with CP's physical function. This can be very helpful for patients, families and providers of all sorts, especially as it relates to both and acceptance and understanding of the diagnosis  and family-centered shared decision making.
Dr. Bailes PT, PhD, PCS is a physical therapist at Cincinnati Children's Hospital and an Assistant Professor in the Department of Rehabilitation Sciences at the University of Cincinnati. Dr. Bailes has more than 30 years of pediatric clinical experience and has been recognized by the APTA as a Pediatric Clinical Specialist since 1993. She began her career at Boston Children's Hospital, moved to Los Angeles and worked at Children's Hospital Los Angeles and has been at Cincinnati Children's for 25 years. Her clinical practice focuses primarily on the care of children with cerebral palsy (CP) and other neurodevelopmental disorders. She also serves on the executive leadership committee of the Cerebral Palsy Research Network. With doctoral training in clinical epidemiology, her area of research focus includes health services and quality improvement with a particular emphasis on physical therapy intervention for individuals with CP.
Resources discussed on the episode: 
Episode 2- Mary Gannotti, PhD, PT: Fitness, Health and Function for across the lifespan for individuals with cerebral palsy
ABOUT THIS EPISODE
In this episode, Mary Gannotti, PhD, PT, discusses fitness, health and function across the lifespan for individuals with cerebral palsy.
Mary is a physical therapist and medical anthropologist whose personal life experiences and her professional experiences help shape her research in disability, especially cerebral palsy. She specifically looks at how personal and environmental characteristics impact disability status and treatment effectiveness. 
We discuss fitness and health recommendations for individuals with cerebral palsy including bone health, prevention, and primary care to prevent declines in function with age. Mary provides evidence based solutions to help those with cerebral palsy age in healthy way.
In addition, Mary discusses current patient driven research initiatives through MYCP (an initiative of CPRN) and arms listeners with her latest chapter in Freeman Miller's (soon to be published) book, Cerebral Palsy: A Complete Guide to Caregiving,  in which she and David Frumberg, MD provide an in depth look at the state of therapy services for adults with cerebral palsy and offer recommendations to optimize health and well being across the life span. 
ABOUT THIS EPISODE
In this first episode, listeners will meet the host, Jen, learn about her background, her son, Bower, and the reason for creating this podcast. Enjoy!