Episode 10: The Role of Physiatry and Neurosurgery in the Care of Cerebral Palsy at Gillette Children's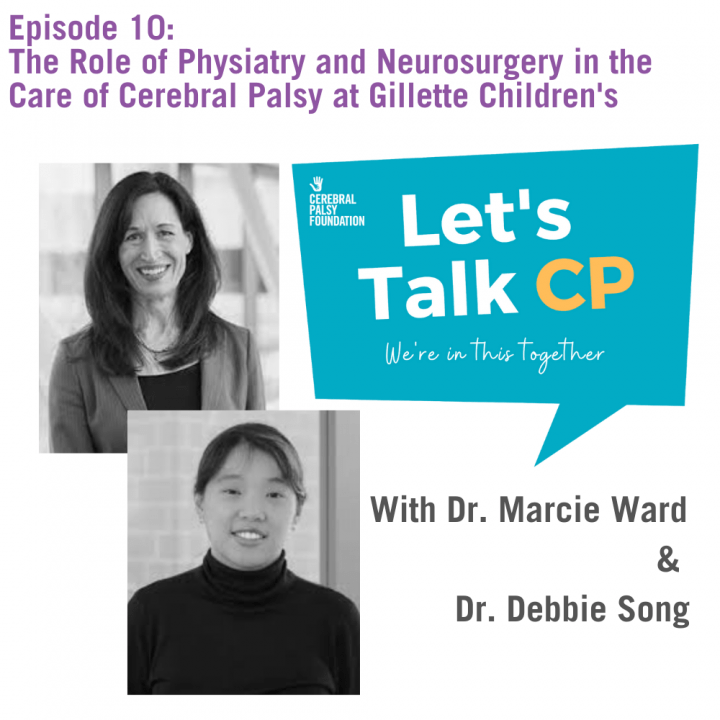 Are you interested in neurosurgical interventions for cerebral palsy or have you considered consulting with a physiatrist for care for your child? Listen up to learn more!
In Episode 10 of "Let's Talk CP" host, Jen Lyman, talks with neurosurgeon, Dr. Debbie Song and physiatrist, Dr. Marcie Ward, from Gillette Children's about interventions neurosurgeons and physiatrists use to treat the symptoms of cerebral palsy, including baclofen pumps and selective dorsal rhizotomy (SDR). They also discuss how this team works together with families in their approach to treatment and interventions at Gillette Children's, to focus on maximizing function and participation for their young patients.
Gillette Children's in Saint Paul Minnesota is one of the world's top cerebral palsy centers, home to leading specialists in treatments for cerebral palsy, including orthopedics, neurology and neurosurgery, as well as operating one of the world's busiest and most respected clinical gait and motion analysis centers.
Dr. Marcie Ward is a pediatric physiatrist, short for Pediatric Physical Medicine and Rehabilitation Physician, at Gillette Specialty Healthcare. She treats pediatric patients who have cerebral palsy, spina bifida, muscular dystrophy, brain injuries, spinal cord injuries and other conditions that result in childhood-onset disability. She is a member of the American Academy of Physical Medicine and Rehabilitation, the American Academy for Cerebral Palsy and Developmental Medicine, and the American Academy of Pediatrics.
Dr. Debbie Song is a pediatric neurosurgeon at Gillette Children's where she evaluates and treats patients with a wide range of brain and spinal cord pathologies including tumors, Chiari malformations, craniosynostosis, hydrocephalus, and cerebral palsy and spina bifida. She is a member of Congress of Neurological Surgeons, American Association of Neurological Surgeons.
We hope you enjoy this episode and don't forget to subscribe to "Let's Talk CP" on your favorite podcast platforms including Apple podcasts, iHeart Radio, Spotify, Google podcasts, Stitcher and many more
Anytime you're going to undergo a surgery, no matter what it is, you want to be in your best shape, best health and best fitness before going into that intervention. Our mantra is we want you to be strong before you go to surgery, because then you're going to be able to use that strength to recover after surgery.