Summer Camp is an experience that can benefit children with Cerebral Palsy! Camps create opportunities to make friends, learn new skills, build confidence, have an adventure, make a mess, and just have fun! Camps gives kids with disabilities the opportunity to just be kids. NO LIMITS. Whether it be a day camp or an overnight camp, there is bound to be something for everyone.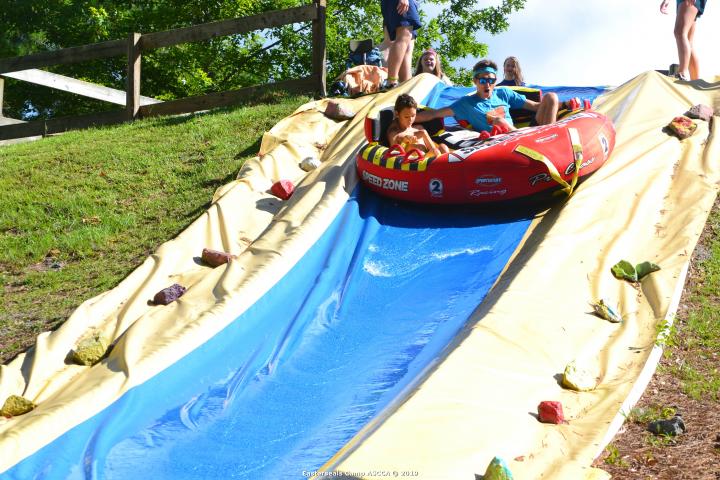 There is truly a camp for everyone! There are day camps that are specific in focus on sports, gymnastics, arts, or music and then there are traditional overnight camps that offer a variety of outdoor programming such as horseback riding, canoeing, kayaking, skiing, archery, or indoor programs such as arts and crafts, culinary arts, or drama.  
There are camps that are inclusive of children with cerebral palsy and other disabilities, who strive to provide a barrier free environment and ensure that all children can be included in their program offerings. Other camps are adaptive and specific to children with cerebral palsy and other disabilities. For those that cater to individuals with disabilities, adaptive camp sessions can either be  disability specific or general to all disabilities. Both types of camp experiences (inclusive or adaptive) can offer benefits to the individual. The child that attends an inclusive program will experience camp in the same way as typically developing or "able-bodied" peers. While the child that attends an adaptive camp for those with disabilities may have the opportunity to meet other children who are experiencing similar needs. In both cases, the opportunities are endless making life long friendships, having fun and creating great memories.
With so many options for camps it is helpful to check with the American Camping Association (ACA) to find a camp that has undergone their voluntary accreditation process. 
In most states, camps are required to be inspected and licensed by the state health department for safety, cleanliness, food preparation regulations. The additional step of seeking accreditation through the rigorous ACA process, a peer review of the entire camp operation, often exceeds the health and safety standards of the state and is in collaboration with the American Academy of Pediatrics, the American Red Cross and other professional organizations.  Accreditation looks at the screening, training and qualifications of all staff and volunteers, the conditions of facilities, staff-to-camper ratios, emergency management plans and more.  Additionally, activities offered are closely scrutinized with additional standards for different forms of activities...such as swimming or horseback riding. 
Sending a child with disabilities to camp for the first time can cause parents tremendous anxiety. For the child, it is an age appropriate experience that can build a foundation for self determination and independence, increase functional skills, create lasting friendships, offer opportunities to experience new recreational or sport activities, and ultimately, have fun! 
Check out some camps below that are available for Summer 2023. And keep in mind that some camps are also still offering Virtual options!
Use the ACA Camping Guide to narrow down your search and find a camp that specifically meets your interests, needs and schedule!
Featured Camps to Check out in 2023!
Adaptive recreation and sport camps allow kids of all abilities to experience the joy of camp in a supportive and inclusive environment.