The Impossible Mile: The Power of Living One Step at a Time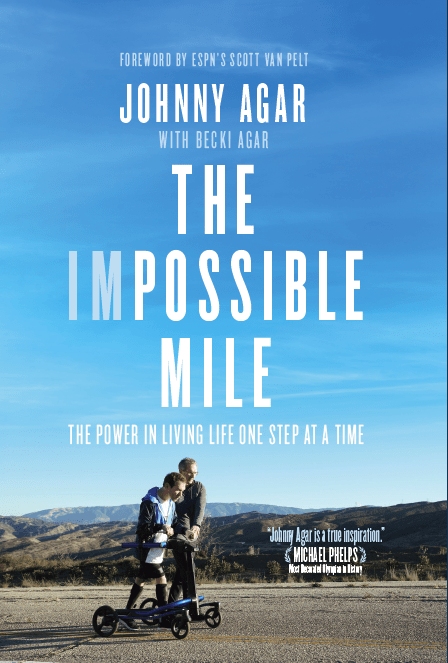 An incredible story of Johnny Agar, born with cerebral palsy and whom doctors thought would never walk, overcoming the odds to compete in Ironman triathlons. Featured on ESPN, NBC Nightly News, The Today Show, and other media outlets, Johnny delivers a moving memoir that is a testament to the power of family, faith, and extraordinary courage.
In The Impossible Mile, told with candor and lightened with humor, Johnny shows what is possible time and time again. His story starts in a Michigan hospital, where he is born eleven weeks premature. An ultrasound reveals bleeding on his brain, and he is diagnosed with cerebral palsy, a condition that hinders a person's ability to control muscle movement. Doctors say he will likely have intellectual disabilities and that he will never walk. Despite the pending challenges, Johnny's parents choose to raise their firstborn without limitations on his abilities. This decision would forever shape Johnny's life, his enduring belief in himself and his dreams.
Growing up, Johnny aspires to be an athlete like his father, Jeff, once a professional baseball pitcher for the Detroit Tigers organization. Sports was in the young boy's blood. But how could he become an athlete? He can't walk unassisted, and his muscles have a mind of their own. To give Johnny a taste of competition, the father and son start participating in 5K road races, Jeff pushing Johnny in a modified wheelchair.
Until one day Johnny has a bold idea. He will chase his dream—literally—of becoming an athlete by walking part of a race. More than just the few steps he has taken in therapy, he decides that to truly become an athlete he needs to go further. Assisted by his father, Johnny trains for his first impossible mile. What he doesn't know is that his bold idea will do more than change just his life forever.
Johnny's story shows the impact of a life lived to its fullest, from the first difficult steps in training, to becoming a brand ambassador for global apparel company Under Armour. He now serves as an inspiration for not only other professional athletes, but for anyone facing their own impossible mile. Come walk a mile in Johnny's shoes, and realize, as Johnny did, you never walk alone, and anything is possible, if you'll just take on life one step at a time.
"Sometimes you are lucky enough to see things from every direction. As I watched that video, I realized how happy I was at all the setbacks I had experienced in my life. The failures that I had gone through time and time again. The embarrassment. The rejection. The uncertainties. Those failures are what brought me to this place. Where I was sitting right now. Watching me on TV side by side with Michael Phelps, the greatest Olympian ever."