Understanding Supportive Standing Devices

A supported standing device is often the first piece of equipment a child receives at 9-12 months adjusted age. After a wheelchair, a standing device is one of the most frequently prescribed pieces of equipment for children, as part of a comprehensive approach to postural management, to help maintain or improve body structure and function and increase activity and participation.
So what are standing devices, why do they matter, how do you choose and obtain one (from a loan organization, your early intervention or school program or from your insurance) and ultimately use it?
 
What is a Supportive Standing Device?
A Supportive Standing Device (Stander) is a piece of rehabilitation technology that helps a child, adolescent or an adult achieve sustained standing with supports necessary to do so with proper alignment while fully weight bearing. 
What is the problem?
Many individuals with CP spend a lot of time sitting and lying down and have difficulty changing position. This puts the child at highest risk of pain and deformity.  As children develop and grow they can develop poor posture and alignment from spending extended time in these positions, which can lead to joint deformities, contractures and scoliosis. This is because their bones grow quicker than their muscles, causing these soft tissues to pull on the bones in ways that can cause loss of range of motion and can change the shape of the bone and joint itself as they get pulled out of alignment. This ultimately impacts function and may necessitate surgical correction. Movement while participating in a child-directed activity can help muscles and bone health. 
What are the benefits of the Standing in a Stander?
Those who utilize a stander on a regular basis may prevent or minimize loss of range of motion (foot, knee, and/or hip), improve and/or maintain bone mineral density, and promote hip health. For many children and adolescents, standing helps improve peer interaction, head control, and alertness. It may also help with digestion, keep regular bowel movements and ease caregiving.
What are the different types of Supportive Standing Devices?
There are several types of standers, all of which have many different support and positioning options.  An individual's needs must be considered when choosing a device and may change over time. In one study, users reported being the most comfortable when their therapists reported they were in the best alignment. Like a wheelchair, the stander can and should be customized for optimal positioning, ease of use, and maximum function and participation! If the one you have isn't working, ask for help from your therapist and/or DME provider.  They need to be adjusted at least every 6 months.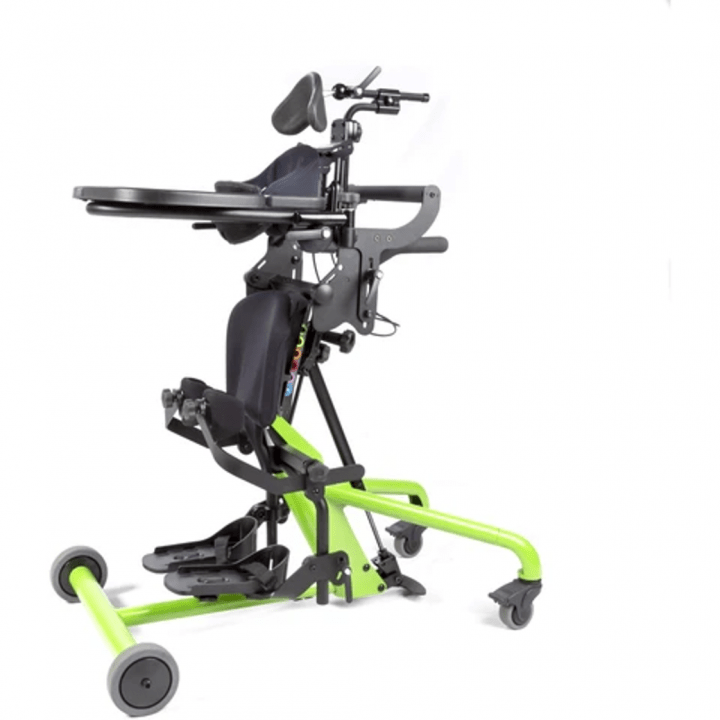 •    Sit – to – Stand Standers (Seat and Sling)  – There are two types of sit-to-stand standers:
The first is a Sit-to-Stand Seat that an individual must be transferred to, but once in the seat, it can be positioned easily between sitting and standing and many positions in between. This is a popular choice for school and many models have hydraulic or battery-operated lift that can be operated by the user. There are also models where the seat swivels, making the transfer even easier.  Look for a model where the supports move with the user as they go up and down without needing additional adjustments.  
The second type is a Sling (or Strap) Stander that uses one or two straps positioned behind the individual's hips/back and legs to lift them out of the wheelchair and into a standing position. This type of stander is helpful for heavier individuals and adolescents who need to be fully lifted to transfer. Both are appropriate for those who have good head and fair trunk control. They are good for those who need to increase their stretch over time.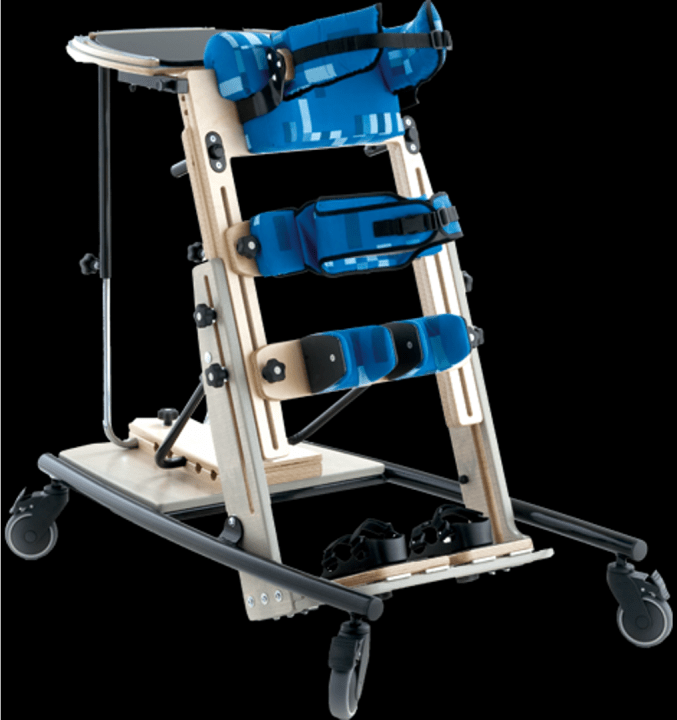 •    Single Position Standers (Prone and Supine) – Single Position standers are in a fixed position that cannot be changed or adjusted. There are two types of single position standers.
Prone Stander, means that the person is standing with the support on their belly (prone). Prone Standers are good for someone who has intermittent or is working on head control as a goal, and has tightness but full range of motion in their hips and knees.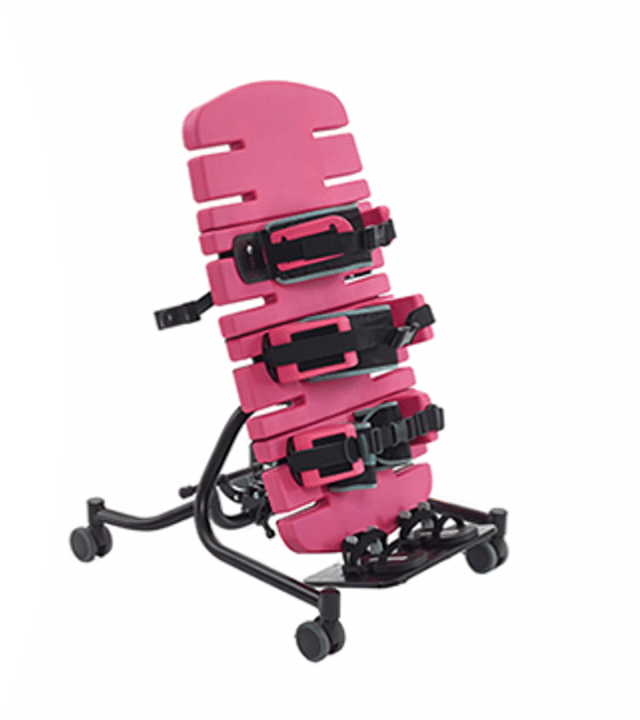 Supine Standers are good for individuals with little or no head control, baclofen pumps, tracheostomies and/or feeding tubes. These standers require someone to lay down on their back to be properly positioned and then moved into standing to the point where they can continue to have head control. They can also help an individual stand with their legs in abduction (separated) and add brackets to account for contractures or leg length discrepancies.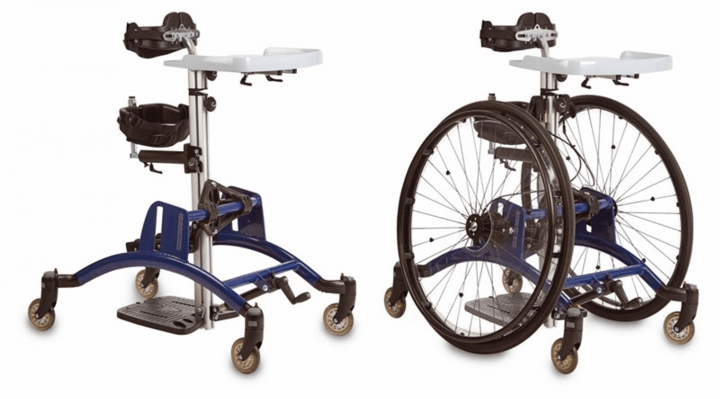 •    Multi-Position Standers - Multi-position standers can be reversed from prone (belly) to supine (back) depending on the individual needs. 
•    Mobile Standers - allow someone to propel themselves or operate a joystick to move their stander while standing. They can come either as prone standers with large wheels one the sides allowing someone to propel the wheels, similar to a wheelchair or they can come as a sit-to-stand stander with a pully system that allows for propulsion. These are appropriate for individuals with good head and trunk control as well as functional arm and hand use.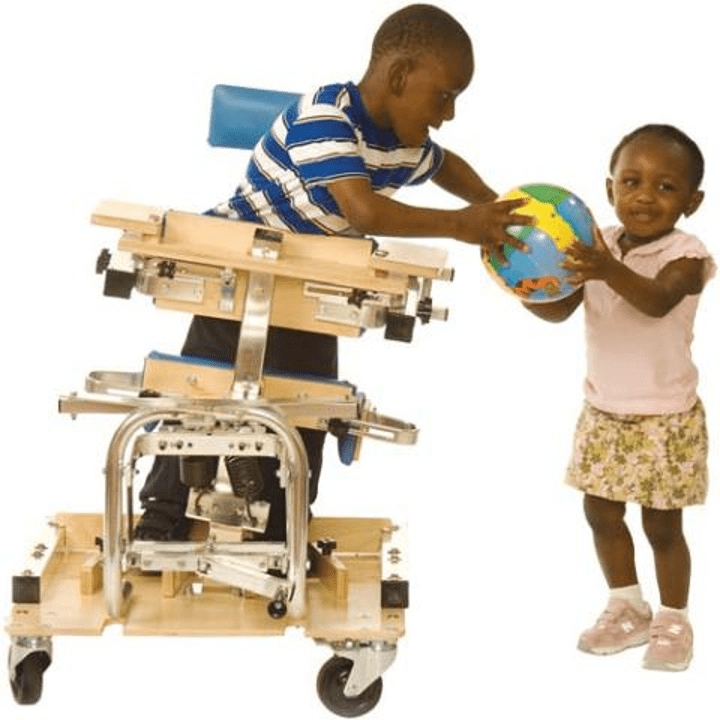 •    Active/Dynamic Standers – These standers allow for reciprocal gliding motion and/or weight shifting and are often used with people who have good head control and upper body strength. Some come with video gaming systems and other active rehabilitation strategies to build strength and coordination. 
How do I get a Supportive Standing Device?
First, talk to your team! Make sure providers who your child sees at home and those at school are on the same page and that all are considering positioning goals and needs throughout the day. 
Your therapist will take measurements (height, weight, leg length, hip width and more) and will do a musculoskeletal evaluation to determine any contractures, restrictions, or supports that will need to be accounted for by the standing system. The therapist will also take into consideration your child's current height/width to find match with "growth" potential of the products you are looking at. This evaluation and the positioning goals will determine the type of stander to choose. It is very important to demo, or try out, the stander before purchasing, to make sure it meets your needs.
What are the standing recommendations?
Standers should be used 60-90 minutes five days a week and can be started as early as 9-12 months corrected age. 
How do I start a standing program?
Once you have a properly fitted stander, it's time to start using it! Just remember START SLOW and PROGRESS SLOWLY. If an individual has never stood fully upright, it is important to ease into this position over time to allow their body to acclimate to the new position, this may mean that they are not yet comfortable standing fully upright. Watch for changes in blood pressure, heart rate and oxygenation levels.  Make sure the legs stay the same color and there is no venous pooling of the blood in the lower legs and feet.  Try to get as much weightbearing through the feet as possible.   Daily standing should always be paired with an activity the individual enjoys doing! Target the time right after school, as this is when typical kids are most active and kids with CP are least active.  Most families do two sessions of standing a day to break up sedentary periods.
Week 1 – Stand Daily for 15 at a time (as tolerated)
Week 2 – Stand Daily for 30 minutes at a time (as tolerated)
Week 3 – Stand Daily for 45 minutes at a time (as tolerated)
Week 4 – Stand Daily for 60 minutes at a time (as tolerated)
Week 5 – You may either increase the time by 15 minutes per week or increase the angle of upright by 10-15 degrees as tolerated. Not everyone will tolerate a fully upright position.
*** TIP : After just two weeks of not using a stander, individuals may need to re-acclimate. Go Slow
What do you do in a stander?
Whatever activities people do while standing! Use of a stander needs to be part of a daily routine and it is important the individual tolerate it and hopefully enjoy it! 
Here are some recommendations to make it meaningful:
•    Activities that require standing so that the individual is at the right position and location to be at eye level with friends, family and peers to learn and interact…like watching tv or a football game, preparing meals, doing arts and crafts, board games or playing cards, playing video games, or using a communication device.
•    Use a wheeled dynamic stander as a mobility device within the classroom, gym or other school areas for fun physical activities such as basketball, yoga, playing catch (or fetch with the dog), table tennis, working out with resistance bands or weights, or dancing!
•    Eating meals or tube feeding while in upright position, when deemed appropriate by therapist/medical provider.