Adaptive Sports for Athletes with Cerebral Palsy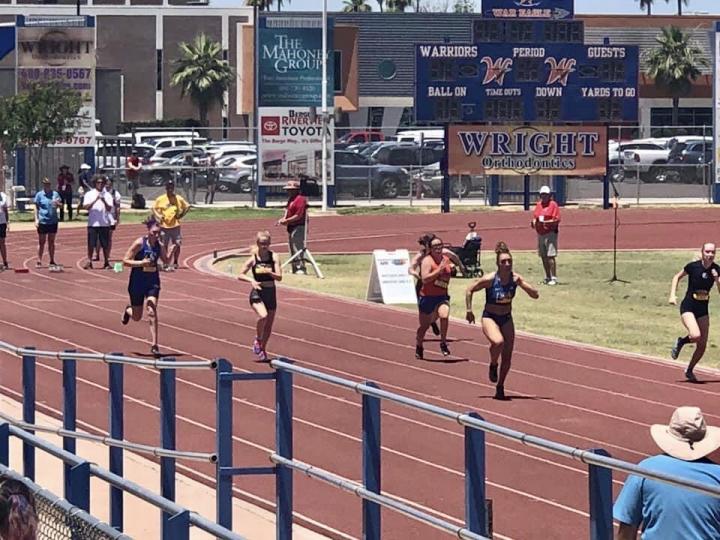 Individuals with cerebral palsy compete in a variety of adaptive sports, some you may have heard of, like wheelchair basketball or adaptive swimming, while others may seem a bit more obscure, like the newest para-athletic competitive sport, Frame Running. Many competitive athletes that we now see in the Paralympics and World Para Championships began as recreational athletes and progressed in their sport to the world stage. Competitive athletes with cerebral palsy are classified according to their sport and motor function. 
Check out the variety of sports we've highlighted here, and if something sparks an interest, look for opportunities in your community and with your local adaptive sports organization or Paralympic Sport Club to participate. You can also learn more from organizations such as Move United, Challenged Athletes Foundation, Blaze Sports and many more.
Listing of Adaptive Sports
Below are many of the adaptive sports that are included in the Paralympics and a few that are still in development for inclusion in the Paralympics, but all are inclusive of those with CP. 
Archery: Archery has been a Paralympic sport since the first Paralympics were held in Rome in 1960. It is both a recreational and competitive sport that is suitable for those individuals with cerebral palsy of all GMFCS levels and abilities. Learn More
Badminton: Para Badminton is making its debut at the 2020 Tokyo Paralympic Games. Played both recreationally and competitively, para badminton involves using a lightweight racquet to hit a shuttlecock or "birdie" over a net. This sport is enjoyed by both wheelchair users and ambulatory athletes and competition includes individual, doubles and mixed doubles. Learn More
Boccia: Similar to Bocce and Bowls, where the individual throws or rolls the ball as close as possible to a target ball, Boccia is played individually and as team sport. This popular Paralympic sport was created for individuals who have more significant impairments as a result of disability with the requirement that athletes must have impairment to all four limbs to participate. Athletes with cerebral palsy make up  the majority of competitors. Learn More  or https://dasasports.org/sports-and-fitness/competitive-teams/boccia/
Canoe: Paracanoe made its debut at the 2016 Paralympics in Brazil. Para athletes of all abilities can compete in ParaCanoe and are divided into two boating categories: Kayak, which uses a double-bladed paddle, and Va'a boat which is propelled by a single-bladed paddle and on a canoe stabilized by outriggers. Paracanoe athletes primarily need upper body coordination to paddle and steer the canoe. Learn More
CP Bowls: CP Bowls is a recreational and competitive sport inclusive of individuals of all abilities which involves rolling a bowl so that it comes as close to the jack (a smaller previously rolled bowl) as possible. Learn More 
CP Frame Football: Football (soccer) is the world's most popular sport! CP Football was originally developed by CPISRA to allow individuals with cerebral palsy to participate both recreationally and competitively at an international level. Designed primarily for GMFCS 1-2 and some level 3 athletes, CP Football is played by teams of 7 players who are grouped according to physical ability level. Learn More and Learn more about CP Soccer in the United States 
Cycling: Para Cycling, or adaptive biking, as most recreational riders would know it, is a Paralympic sport that is inclusive of cerebral palsy athletes of a variety of GMFCS levels in both road and track events. Events include: Road race, time trials, hand cycling (team relay), tandem sprint, team sprint, individual track and scratch races. Lean More
Equestrian: Many individuals with cerebral palsy will be familiar with equestrian through participation in therapeutic and recreational horseback riding programs. Para equestrian is inclusive of individuals of GMFCS levels. Events include dressage and even carriage driving. Learn More
Frame Running: Already growing in popularity internationally and in the United States, Frame Running utilizes a light-weight frame with large, bicycle tires and a bicycle seat, and chest plate, to support an individual with significant motor impairments as they propel forward. A great sport for all GMFCS levels, Frame Running clubs are popping up all over the US as more and more individuals are participating. Learn More
Paradance Sport: Though it is not included in the Paralympic Game program, this graceful, athletic, wheelchair recreational and competitive sport continues to grow in popularity and is great for individuals with cerebral palsy who use manual and powered wheelchairs (GMFCS 3, 4 and 5). Dances include Latin, waltz, freestyle, foxtrot and many more! Learn More
Powerchair Hockey: Developed in the late 1970's, in this fast paced sport, athletes use their electric wheelchairs to mobilize across the court while using a light weight hockey stick to move the ball to the goal.  Learn More
Powerlifting: Powerlifting has been a Paralympic sport since the 1964 Tokyo Olympics. The ultimate test of physical strength, competitive power lifting consists of the bench press and often athletes lift more the three times their body weight. Suitable for individuals of all GMFCS levels, to safely engage in powerlifting, good stability in upper body and shoulders is mandatory. Learn More
Rowing: Para Rowing is an adaptive sport that is inclusive of individuals with cerebral palsy across most GMFCS levels, with the requirement that athletes be able to use their upper body to row a boat. The competitive event involves rowing 1000 meters in 9 competitive classes for men and women. Learn More
Sailing: Though not included in the 2020 and 2024 Paralympic roster, Para Sailing is a recreational and adaptive sport that is inclusive of individuals with cerebral palsy across all 5 GMFCS levels. Adaptive or Para sailing can be enjoyed independently or with the assistance of teammates and with a variety of adaptive sail boats. Learn More
Shooting Para sport: Parashooting has been a Paralympic event since the Toronto 1976 Games. Athletes from more than 65 countries compete in the sport which involves men's and women's and mixed shooting from distances of 10m, 25m and 50 meters. The sport is appropriate for individuals with cerebral palsy of all GMFCS levels. Learn More
Sitting Volleyball and Beach Para Volleyball: Both sports, sitting and beach para-volleyball, are great team sports inclusive of individuals with varying capabilities. The rules are similar to their non-adaptive sister sports with some adjustments to the number of players on the team. For sitting volleyball, the athlete must be seated on the ground (pelvis must be in contact with the ground) and is appropriate for cerebral palsy athletes GMFCS 1-4 who are able to sit unaided. Whereas Beach Para-Volleyball is for athletes who can compete from a standing position. Learn More
Swimming: Swimming is fantastic for everyone and for people with cerebral palsy. It is both a recreational and leisure activity, as well as a Paralympic event. Individuals with cerebral palsy are often competitive para swimmers. Learn More
Table Tennis: Para Table Tennis was included in the first Paralympics in Rome and has grown to the third largest Paralympic sport and includes athletes from over 100 countries. Appropriate for individuals with a variety of abilities, Para Table Tennis can played both seated and standing, with sporting classes that additionally individuals with learning impairments. Learn More
Taekwondo: Para Taekwondo is an adapted sport based on the ancient martial art of Taekwondo. It is appropriate for individuals who are ambulatory and have milder forms of cerebral palsy or other impairments. Modifications include a prearranged sequence of attack and defense patterns performed by the athlete against an imaginary opponent. Learn More or https://itftkd.sport/courses/international-adapted-courses/
Track and Field: Also known as Athletics, Track and Field is a very popular Paralympic category for athletes with cerebral that includes both ambulatory and seated athletes and encompasses a wide range events. Track events include sprints, longer distances and relay races for different classes of ability level. Field events include long jump, club throw, discus, shot put and javelin also differentiated by functional classification. Learn More
Triathlon: Para Triathlon first debuted in the Paralympic Games in Rio 2016. The competition involves the three-sport combination of swim, bike, run and is open to athletes who are both ambulatory and wheelchair users, although primarily GMFCS 1-3 athletes compete in unaided competition. Learn More
Wheelchair Basketball:  Played by teams of 5 players, wheelchair basketball is a fast paced recreational and competitive sport that is appropriate for individuals with cerebral palsy, GMFCS 3 and 4. Learn More
Wheelchair Fencing: Appearing in the first Paralympic Games, wheelchair fencing is a popular sport for cerebral palsy athletes GMFCS 3 and 4. This is a beautiful event to watch which is often as much of a mental challenge as it is a physical one. It is both an individual and a team event. Learn More
Wheelchair Slalom: Currently in development by World Ability Sports for individuals with cerebral palsy who use a manual or a powered wheelchair. With seemingly endless possibilities, wheelchair slalom involves navigating the chair through a series of obstacles and levels of difficulty. Learn More or https://www.wslalom.com/
Wheelchair Rugby: Wheelchair rugby is a popular Paralympic sport that currently includes national teams from 26 countries. Developed specifically for wheelchair athletes, wheelchair rugby is a sport available for disabled athletes, where the wheelchair is an integral aspect of the sport. Wheelchair rugby is appropriate for a variety of functional abilities and currently World   is developing standards for adaptive rugby for ambulatory athletes with cerebral palsy. Learn More
Wheelchair Tennis: This Paralympic sport is played by athletes who utilize both manual and powered wheelchairs. Overseen and governed by the International Tennis Federation, the sport has the same rules as tennis for non-disabled individuals, with the exception that the ball is allowed two bounces. Learn More
Our friends at World Ability Sport, which was formed after the merger of Cerebral Palsy International Sports & Recreation Association and the International Wheelchair and Amputee Sports Federation (IWAS), have created these graphics to help you better understand the various Paralympic and adaptive sports, as well as what sports are best suited for different physical abilities: