My Child's Diagnosis Does Not Define Her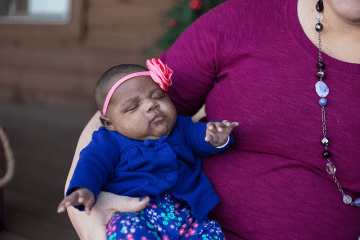 When we received our child's diagnosis of cerebral palsy at 11 months old, we were overwhelmed with shock and fear of the unknown. We didn't know exactly what a CP diagnoses meant in the short term or long term and it put us in what we would describe as a "defense" mode.
That defense mode is how we survived the next two years as parents. It resulted in a major priority shift in our lives and we found ourselves neglecting things that were once important such as caring for our home, cars, family events and vacations. Caring for our child and keeping her safe consumed us and we did whatever it took to understand what this diagnosis meant and how to keep her from experience hardship.  We became home bodies, a place where we felt our child could play and be safe. We only left the house to go to work, doctor appointments and therapy, and we felt like we were constantly buried by the crashing waves of all the information and what ifs that came with her condition.
What we learned from our defensive lifestyle is that it's normal to feel this way. It is a lot of information to process all at once and it's an emotional rollercoaster immediately following a CP diagnosis. We also realized that our diagnosis wasn't what defined our child. She is an amazing little girl who is full of personality, she isn't a fragile flower that needs to be sheltered, and by realizing this we were able to go on the offensive, and attack the challenges head on.
When taking an offensive approach, remember to utilize the resources that are available. There are a ton of them out there, from books, articles, great foundations and the advice of medical professionals. While a lot of the information is very helpful make sure you focus only on what is most applicable to your situation. Also, find a support group, and like-minded parents who are going through similar situations. We have friends whose daughter has the same diagnosis as ours and it is wonderful to be able to sit down with them, to trade stories. These approaches will help you to take back control of your life and be a champion for your child.
This shift is going to take time, so start small, take a break every once in a while. Just do family things, as simple as a board game or playing on the floor together. The little things will make all the difference, and I can't overstate the importance of taking a step back as a parent and a family to just breathe a little. Also take time as parents, to prioritize yourselves and your relationships with your significant others, as you need to be your best self if you are going to be the best parent you can be. And most importantly remember to love on your child, love is a powerful tool that can make all the difference.