Personal Care Through the Years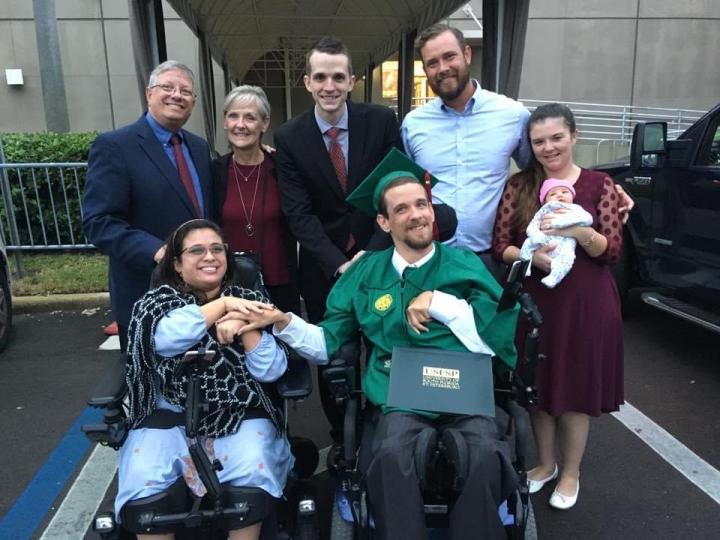 As a person with cerebral palsy, one of the many challenges faced can be establishing a care system that is reliable and feasible.  For the first 18 years of my life, I was fortunate to be able to rely mostly on my family to provide me with the care that I needed.  This care could range from everyday needs to school and any extra activities that were planned.  In short, care needed to be all encompassing and constant.  As I got have gotten older, my needs have evolved and changed into more adult activities, the need for outside care became necessary.  Though it is one of many challenges, finding good outside care is one I must constantly overcome.
The Early Years
From the day that I was born, my care needs required complete and constant attention.  I was born 10 weeks premature and needed an extended stay in the hospital including time in an incubator; I was so tiny.  Once I came home, it became the mission of my parents and family to ensure I was safe and well cared for.  The foundations of my care system were forged inside our home.  For the next 18 years, the entirety of my care was provided by my family.  The only time this was different was while I was in school.  In my younger years, the school system provided many tools to ensure I was meeting developmental benchmarks.  This included activities such as physical and occupational therapy, and even potty training when I was in Pre-K.  The school provided an assistant to attend classes all the way through high school, which was especially helpful because I attended all mainstream classes.  At the end of the school day, I was picked up by my family and they once again became responsible for my care.  My after-school activities, such as homework, scouting, or attending sporting events were all attended by the entire family typically.  My brother and I both were scouts, and both attended these games, so not much different was happening in our family than in others.  Our parents always made sure I could be included with everything that came our way.  As I approached the end of high school, many questions about the future arose.  Who would move on with me to college, where would I attend?  New challenges were met with new ideas.
Transition to Adulthood
After graduating high school, I realized that if I were to become more of an adult, I would need some new forms of independence.  The use of caregivers from outside of my family was becoming increasingly necessary.  Colleges often provide note-takers or scholastic assistance, but they were not able to provide me with an actual caregiver while I was on campus.  Through the Med-Waiver program, we were introduced to a third-party company that would arrange for a caregiver to assist me according to my needs.  This was new territory for us, we had no idea what to expect.  We found that it wasn't always the right fit with caregivers and though we didn't have any horror stories, it did take a few rounds before we found a good match. 
Jim Corn arrived at my house for his first shift and I was not sure how it would work.  How often is it that a 68-year-old man bonds immediately with a much younger 20-year-old college student?  The answer is usually not often, but Jim and I quickly became best friends.  Jim attended classes and often joined me at sporting events over the years.  I finally found a caregiver who I could have honest and open conversation, and not always have to "behave" in front of my mother.  We could jam to whatever music we wanted to in the car, we talked about girls, sports, and all the other topics my mother was just not interested in.  He provided the independence I was so desperately craving.  After five years with Jim, who was now over the age of 70, he decided to move on to a career in case management.  This would have been devastating if it weren't for the fact that he became my case-manager and we still keep in contact to this day. 
When Jim left, we were fearful of more issues finding proper care for me, but became reassured when my new neighbor Moe stepped up to the role.  Boy did she step up big time!  With the exception of her first day, our experience with Moe has been exceptional….She promises she won't brush my teeth with hydrocortisone rather than toothpaste ever again!  Moe and I quickly formed a close bond, and she definitely doesn't let me slack off.  Moe has been with me ever since as part of my care system.  She was hired through a third-party company in the beginning, but shortly after graduating college, the way my care was arranged made a drastic change.
Independence
Graduating college typically brings all new opportunities and challenges to everybody, my challenges were just a little different.  I was now a young man of 28 years, and had goals I wanted to accomplish.  I had graduated from two different schools with an AA and a Bachelors, but I was unsure of what the future would hold.  Having a career while needing constant care can be quite difficult.  Third party caregivers typically had a lot rules and hoops to jump through regarding their paperwork and allotted time to work.  The solution to this problem came after meeting my now fiancée, Shelby.  Shelby had been using a system through the State of Florida called Consumer Directed Care Plus.  In short, CDC+ gives the consumer direct control of a budget for their care and other approved needs.  I was now able to decide how much and who to pay.  Obviously, this system needed a lot of adjusting to, but my soon to be father-in-law was a huge asset to helping my family set up this new plan.  I was able to secure Moe to remain on my team, and now I was the only person to whom she had to report.  Our relationship has been strengthened by this, Thank you Moe. The versatility of my team now was under my control.  My mother and brother took on the other roles on my care team, ensuring that my mother could start to relax a little bit more.  After all the years of sacrifice, she deserved it, Thank you mom.  Now I have three "employees" that take care of me, and help me to continually reach new goals.  As we speak, I am currently dictating this article to my brother who in turn types it out for me.  Thanks Tommy. 
Marriage a

nd Beyond
On May 7th, 2022 I will marry Shelby Nurse.  As Shelby and I plan out our futures together, we expect to meet new challenges ahead as well.  Fortunately, having a strong core care system helps us to feel more prepared.  We both want, as others do, to be able to spend our lives together.  In order for two disabled people to live together, a larger care system becomes necessary.  We believe in using family whenever possible to maintain a core team that we can trust with our safety and success in the future. When our families are no longer able to be our resource for care, we will need to adjust.  We have discussed the many avenues which we could choose, and the future will only tell the new ways we find to persevere.  Despite the challenges that can be encountered while navigating the complexities of establishing a reliable care system, it has been a very positive experience throughout my life.  Our care needs are ever-changing and the need for a versatile care system will be one of our main focuses in life. 
As I got have gotten older, my needs have evolved and changed into more adult activities, the need for outside care became necessary.  Though it is one of many challenges, finding good outside care is one I must constantly overcome.